Listen to excerpts of In Arcadia by Graham Lynch, recorded by the Rodriguez & Keepe Duo
Bulletin Board
Now accepting motivated students for the 2018-19 school year. Individual, group, and online lessons available. Please go to the NISA tab for more information.
Download and print form: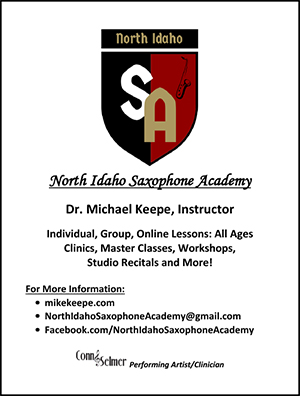 ---
CONGRATULATIONS!!!
to NISA student Isaac Lawrence of CDAHS who won 2nd place in the state solo competition on tenor saxophone. Additional accolades go to NISA Student Hailey Tenney who, along with Issac, won 4th place in the state chamber music competition with the CDA Saxophone Quartet (Blazing Fingers) Isaac performed on 1st alto and Hailey on baritone. So proud of you both!!!
---
Mike will be working with Brazilian composer Andersen Viana his "LONELY HEART" project. It will feature 13 compositions for a full concert and recording.
---
Mike was recently featured on The Modern Saxophonist podcast. The interview discusses his dissertation research into the history of the Hollywood Saxophone Quartet.
Please Click Here For More Information
:
---
Mike has recently been featured in David Culter's new bookThe Savvy Music Teacher: Blueprint for Maximizing Income & Impact